The ability to work wearing a watch under aggressive conditions was once considered impossible. People were just pity for their wristwatch because of any strong vibration, sharp blow, water – with 90% probability killed a precise accessory. G-SHOCK shock-resistant watches have solved this problem, and now many people consider shock resistance to be the most typical "must-have" set in any watch. However, there is excellent work of Japanese engineers behind it. Today, let's show you the latest budget item, GA-900A-1A9, which hints at its use in the industrial world but remains very stylish for the ordinary metropolitan citizen.
The world of "G-Shock Lovers" can be classified into two categories: some criticize any G-Shock watch [no matter how beautiful it is, such as GR-B200] for the lack of solar power; others are silent and use the watch just for its beauty and do not consider changing the battery once every two or three years something very critical.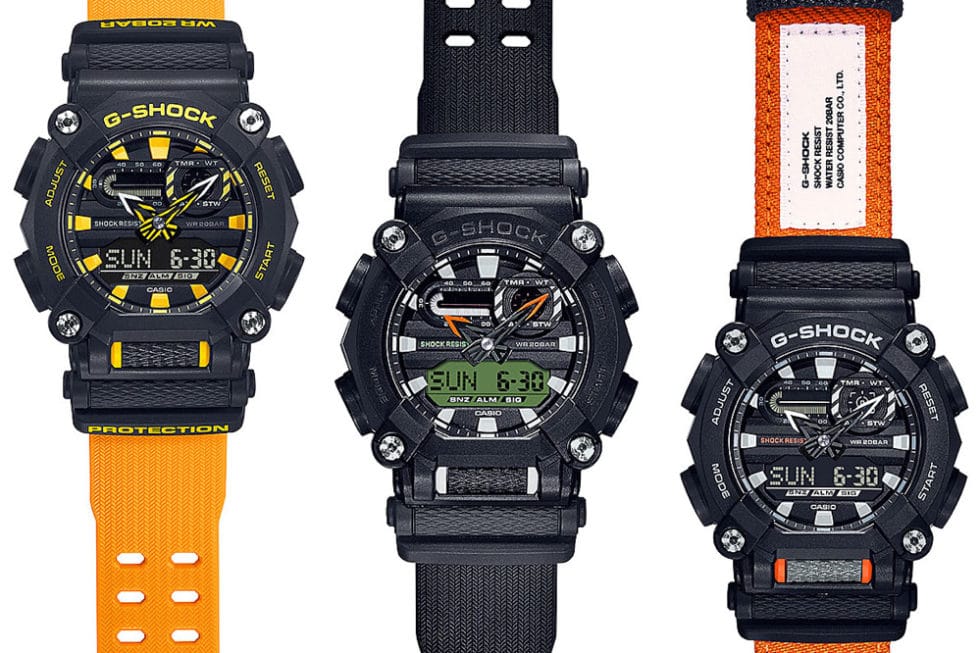 The Japanese found the golden mean in the GA-900 series, which satisfies both sides of this confrontation. It is a 7-year-long battery. You would agree that the budget segment's long battery life can be considered a cheaper alternative to such a favorite and more expensive, of course, Solar Powered products.
And anyway, as for me, you will buy a new "shock" for seven years, but it will be a completely new story. The critical conclusion – my tremendous respect for providing such energy autonomy. It is not achieved by new solutions in the "battery business," but by optimizing the caliber. And according to our information, this is the most long-term G-Shock watch in ana-digi. Watchmakers know that the hands are the ones that affect battery life most of all. The Japanese have made them very light and tough.
However, the GA-900A-1A9 is not suitable just for its battery life. People would buy it even with a 3-year-old modification. The design and quality of materials leave only positive emotions [which is enough to buy].
Let's start with the design… As I hinted at the beginning of the review, Casio designers were inspired by industrial manufacturing, where the 10-sided bezel resembles an ordinary nut's shape. The bezel itself is fastened with four screws, which are very harmoniously combined in the model's general style.
Unfortunately, the company does not provide transparent photos to ensure the screws are essential in the fastening structure, but from what I can see, they still have to perform this function [not just for beauty]. In any case, there is no doubt about the shock-resistance of G-Shock watches.
Despite the evident focus on industrial design, the watch does not intend to become a faithful companion only to this audience [factory workers, for example]. The series is designed for young people, teenagers, fitness coaches, for those who want to complement their style with their personal feeling of beauty, but only in watchmaking. And you know, if I saw such a teenager with such a watch, I would hug him)).
Let's study the dial… People choose ana-digi for their love of hands and digital functionality. The hands look amazing in the GA-900A-1A9! I was a little worried about the readability, but it was the only concern. You can see the analog time almost always and from any angle. The color itself reminds me of a wild animal [or my fantasy has gone too far].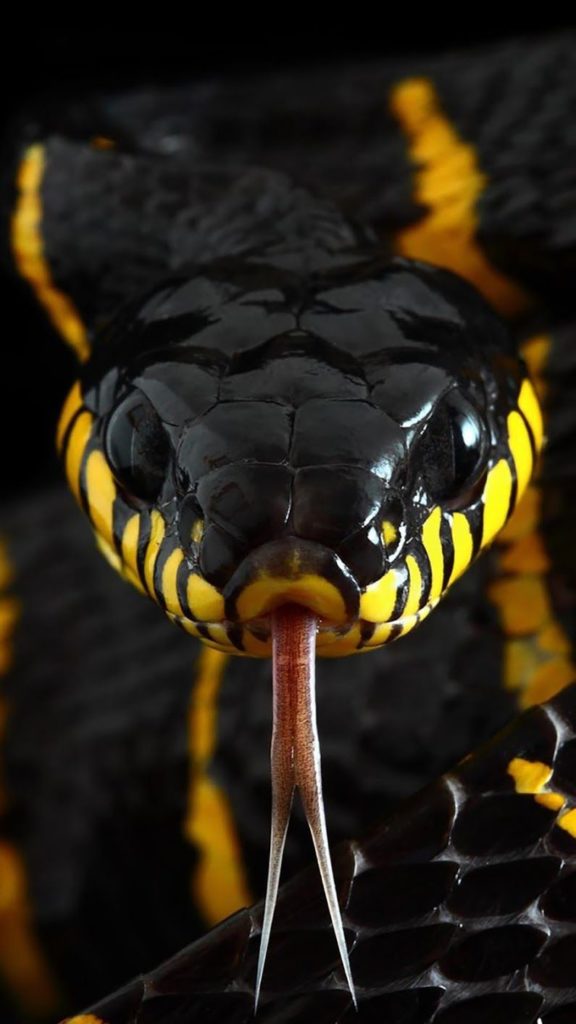 I consider myself an avid fan of the second hand in a watch. That is how I define the vivacity of the movement, its dynamics, the "breath." There is no second hand in the GA-900A-1A9 for apparent reasons: the battery should last seven years, and a "wild" window at 10-11 o'clock position is responsible for the seconds' dynamism.
Yes, this "serpentine" perfectly demonstrates the liveliness of what is happening, but it is hidden under the "blanket" of the negative display. Its purpose is to hide electronic functionality for the hands' benefit, and the goal was perfectly executed. The hands in GA-900 are the main ones, and no one dares to say the opposite.
One more design solution is an additional window like a "sight" at the 1-2 hour mark. It serves a primitive function: it shows the current watch mode [timer, alarm, world time, stopwatch – actually, all essential functions of the series], but does it very nicely. This window is not particularly visible on all official photos because it is closed by the minute hand.
The backlight is a bright LED [at 6 o'clock] and scatters the light evenly across the entire dial surface. Only hands are visible by the LED light. Digital windows, unfortunately, are almost invisible.
I am pleased to have a separate convenient button for the backlight and choose 1.5 seconds or 3 seconds duration period. There is no any lumen print on the hands.
Another thing I can't help but notice is the perfect strap quality. Such a polyurethane [PUR] thickness I met only in elite pieces like GWG-1000. The polyurethane is much thinner even in my GWG-3000. And the additional "levers" for easy removal also motivate to put a high mark on this element.
I don't want to call the GA-900A-1A9 a "calm" one, as the watch turned out to be moderately aggressive, bright, and provocative. This new product's impressive size: 52.8 x 49.5 x 16.9 mm is good evidence of such aggression.  This watch is designed to emphasize your taste, not to hide it.
GA-900 Comparison Table with similar G-Shock Watches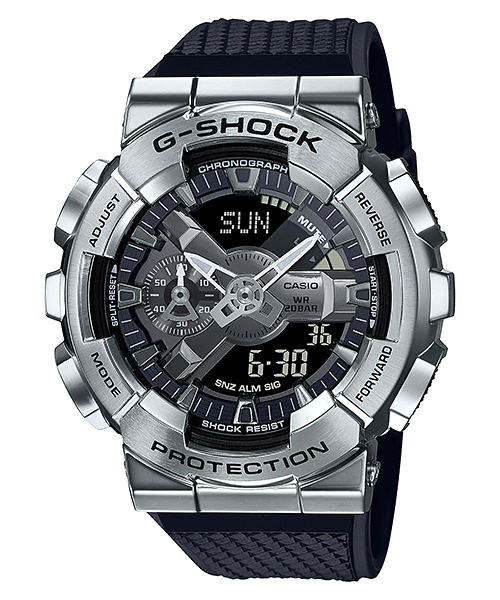 Neobrite (hands and hour markers) and LED light (Super Illuminator)

LED light (Super Illuminator)

Neobrite (hands and hour markers) Double LED light

Alpha Gel /
Vibration Resistance

Carbon (Carbon Core Guard)

Size (mm) *we consider 48.9×42.8×13.4 to be a traditional watch size (as in DW-5600). So you are to compare how far or close the watch is to this size

Full features (if you want to know more)
Conclusions
This GA-900A-1A9 model, like the entire GA-900 line, is of very high quality. The strap's quality and the "serpentine" styling continued to impress me by the end of the review. The watch is not suitable for everyone, as the size is difficult to call compact, and the style is not designed for strict business meetings. But if your life, clothing style, profession allow, I see no reason not to enjoy the pleasant emotions of the industrial GA-900 for a very reasonable price.
Author Valdemar, special for casioblog.ru and casiofanmag.com. All Rights Reserved…
G-Shock GA-900 Photo Gallery
---
GA-900 Profile / Casio G-Shock
Average Amazon Price: $130
Year of first release: 2020
Best for: Top in G-Shock Lookbooks
Lineup: STANDART ANA-DIGI (This Line includes Digital and Analog displays on G-Shocks that are the best in "price/quality" category. Usually have traditional digital functions, but with beautiful hands. Don't worry, the hands won't prevent you from seeing digits, since there is a special Hand Shift technology that moves them to the neutral position) All G-Shock STANDART ANA-DIGI Watches →
Best for: Teenagers, Artists, Singers, Dancers…
The most distinctive specs:
– Decagonal bezel (very unique industrial style for modern G-Shocks)
– Hand Shift (moves the hands to neutral position for a better digital screen readability)
– 200-meter water resistance (good for swimming but not for deep diving)
– Battery life: 7 years (the longest lasting battery for a non-solar G-Shock watch with an analog display)
Other colors and full specs: GA-900 Wiki Page