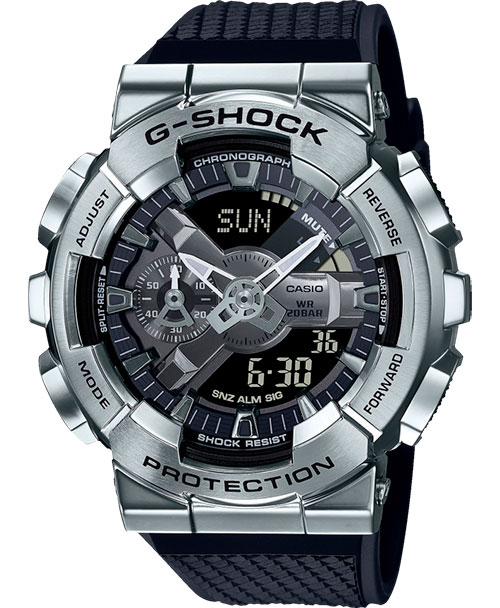 Important Information
Price — 190$ *average Amazon Price, we may earn commission from purchases
Year of first Release — 2020
Module Number — 5553 / Manual
Model Range — STANDART ANA-DIGI (This Line includes Digital and Analog displays on G-Shocks that are the best in "price/quality" category. Usually have traditional digital functions, but with beautiful hands. Don't worry, the hands won't prevent you from seeing digits, since there is a special Hand Shift technology that moves them to the neutral position)
Other Divisions the GM-110 belongs to: *you may find all watches of the division by clicking on the link
Battery Type — SR927W (G-Shock Batteries)
---
Enjoy our G-Shock GM-110 Watch Review
GM-110 is a sort of jewelry piece that perfectly combines the art of metal processing, G-Shock watches' unique design style, and Japanese devotion to quality. The watches will be appreciated only by those who want to emphasize their style, outlook, and extraordinary love for watchmaking. There is nothing supernatural about the series regarding inner stuffing, but it is more about outer beauty, accuracy, shock resistance, and water resistance. Read Full Review →
---
GM-110 Model Range *may be updated
---
The most distinctive specs of GM-110 *Editorial
— Steel Case (the most popular look of G-Shock GA-110 is now in a full steel case)
— Neobright Light
— ISO 764 class magnetic resistant (A magnetic-resistant plate is mounted on the module. The plate prevents magnetic fields from interfering with proper movement of the hands in daily use)
— World Time (in 48 cities all over the world. Ideal function for business people or travelers who want to control two times at one display)
— 200-meter water resistance (good for swimming but not for deep diving)
---
Official GM-110 Video
Official Marketing Focus from Casio
The stainless steel bezel of this analog-digital GM-110 Series model have been forged, cut and polished to give it its distinctive design.
The GM-110 model has a silver bezel and dial for a metallic look.
Official GM-110 Specs / Features *for base version GM-110-1A
Case / bezel material: Resin / Stainless steel
Resin Band
Magnetic Resistant
Shock Resistant
Mineral Glass
200-meter water resistance
Neobrite and LED light (Super Illuminator)
Auto light switch, selectable illumination duration (1.5 seconds or 3 seconds), afterglow
World time
31 time zones (48 cities + coordinated universal time), daylight saving on/off, Home city/World time city swapping
1/100-second stopwatch
Measuring capacity: 999:59'59.99"
Measuring modes: Elapsed time, split time, 1st-2nd place times
Countdown timer
Measuring unit: 1 second
Input range: 1 minute to 24 hours (1-minute increments and 1-hour increments)
5 daily alarms (with 1 snooze alarm)
Hourly time signal
Full auto-calendar (to year 2099)
12/24-hour format
Button operation tone on/off
Regular timekeeping
Analog: 2 hands (hour, minute (hand moves every 20 seconds)), 1 dial (stopwatch indicator)
Digital: Hour, minute, second, pm, month, date, day
Accuracy: ±15 seconds per month
Approx. battery life: 3 years on SR927W×2
Size of case : 51.9×48.8×16.9mm
Total weight : 93g
---
GM-110 Comparison Table with similar G-Shock Watches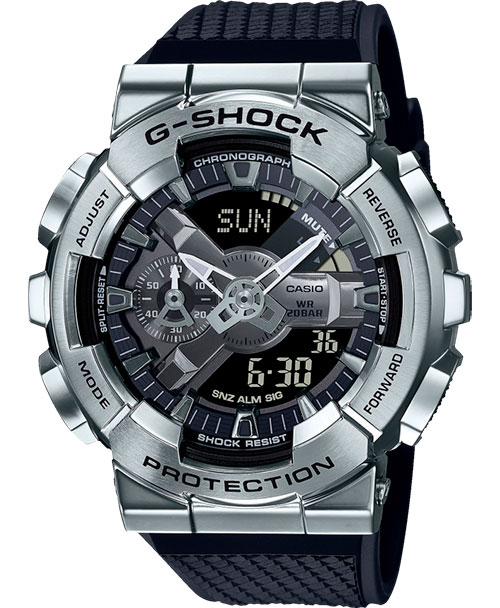 Neobrite (hands and hour markers) and LED light (Super Illuminator)

LED light (Super Illuminator)

Neobrite (hands and hour markers) Double LED light

Alpha Gel /
Vibration Resistance

Carbon (Carbon Core Guard)

Size (mm) *we consider 48.9×42.8×13.4 to be a traditional watch size (as in DW-5600). So you are to compare how far or close the watch is to this size

Full features (if you want to know more)
---
Recent News about GM-110
---
You ask, we answer…
How does World Time in GM-110 work?
It shows time in 48 cities all over the world. Ideal function for business people or travelers who want to control two times at one display.
What does ISO 764 class magnetic resistant in GM-110 mean?
A magnetic-resistant plate is mounted on the module. The plate prevents magnetic fields from interfering with proper movement of the hands in daily use.
What is 200-meter water resistance in GM-110?
The watch is good for swimming but not for deep diving.