---
Sapphire is a 9 on the Mohs scale (Wiki) of mineral hardness, meaning that basically only another sapphire or diamond is able to scratch it. You can take a steel file to it, drag it across a brick wall, and like you say take a nail or sandpaper to it. It won't scratch. From Reddit User.
So, we've accumulated for you all actual EDIFICE watches with Sapphire Glass [on active sale] to enjoy this material in your watch.
---
Listing of current EDIFICE Sapphire Crystal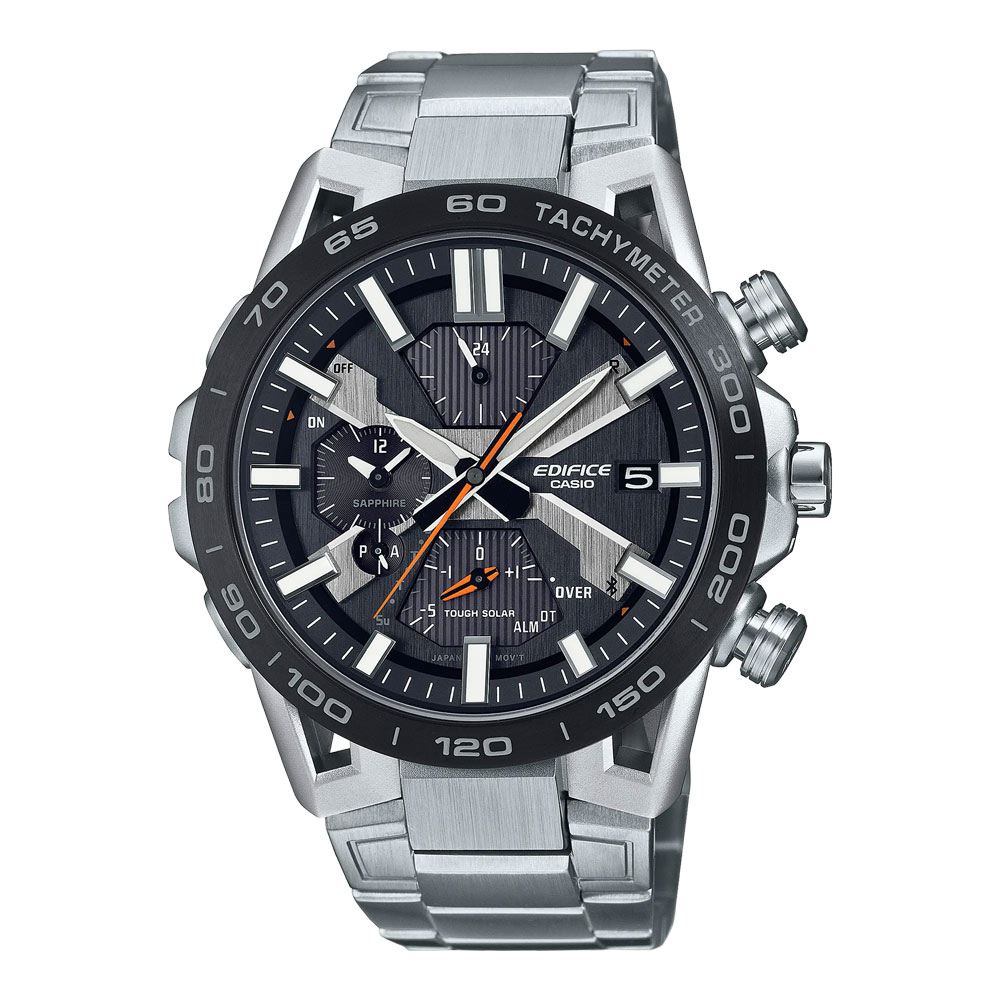 ---
Use our advanced table to filter all watches in the listing by price, or search a top feature by typing for example "Solar" in the search form.
*you can use a horizontal scroll on mobile to see all table columns
EDIFICE
Year
Top Features
Avg Amazon
Price
EQB-2000
2022
Bluetooth, Solar Power, Tachymeter, Edifice Connected App, Dual Dial World Time
$350
EQS-940
2022
Solar Power, Light, Stopwatch
Out of stock
EFS-S590
2021
Solar Power, Countdown Timer, Stopwatch
$300
EFR-S572
2021
Stopwatch
$250
ECB-S100
2021
Solar Power, Light, Stopwatch, Bluetooth, Edifice Connected App, Countdown Timer
$249
EQB-1200
2021
Solar Power, Stopwatch, Edifice Connected App, Bluetooth, Tachymeter, Dual Dial World Time
$395
EFS-S580
2021
Solar Power, Stopwatch
$255
EFS-S570
2020
Solar Power, Stopwatch
$300
EFR-S108
2020
Date Display
$165
EQB-1100
2020
Solar Power, Tachymeter, Bluetooth, Edifice Connected App, Dual Dial World Time
$340
EFS-S560
2020
Solar Power, Stopwatch
$280
EFR-S107
2020
Date Display
$100
EQB-1000
2019
Solar Power, Stopwatch, Bluetooth, Edifice Connected App, Dual Dial World Time, Tachymeter
$330
EFS-S550
2019
Solar Power, Stopwatch, Countdown Bezel
$160
EFR-S567
2019
Stopwatch
$100
EFS-S540
2018
Solar Power, Stopwatch
$220
EFS-S530
2017
Solar Power, Stopwatch
$190
EFS-S510
2017
Solar Power, Stopwatch
$220
---
Year of first Release — 2022 / $400
*average Amazon Price, we may earn commission from purchases
Lineup: SMARTPHONE LINK All EDIFICE Smartphone Link Watches →
You pay for: Susension arm design, Sapphire Crystal, Solar Powered, Tachymeter, Last Lap Differential Indicator, Mobile link, 100-meter water resistance.
Full information: Colors, Detailed Specs, Photos, News on EQB-2000 Wiki Page →
#Edifice-Smartphone-Link, #Edifice-Solar, #Edifice-Sapphire-Crystal
---
Year of first Release — 2022 / out of stock
*average Amazon Price, we may earn commission from purchases
Lineup: STADARD ANALOG All EDIFICE with Analog Display →
You pay for: Solar Power, Inset Dial Inspired by sports car disc brake rotor, Stopwatch, 100-meter water resistance.
Full information: Colors, Detailed Specs, Photos, News on EQS-940 Wiki Page →
---
Year of first Release — 2021 / 250$
*average Amazon Price, we may earn commission from purchases
Lineup: SLIM CASE All EDIFICE Slim Case Watches →
You pay for: 100-meter water resistance, EDIFICE SLIM, Automotive Bazel, Sapphire crystal
Full information: Colors, Detailed Specs, Photos, News on EFR-S572 Wiki Page →
#Edifice-Sapphire-Crystal, #Edifice-2021
---
Year of first Release — 2021 / 300$
*average Amazon Price, we may earn commission from purchases
Lineup: SLIM CASE All EDIFICE Slim Case Watches →
You pay for: 100-meter water resistance, EDIFICE SLIM, Sapphire crystal, Solar Powered, Countdown Timer
Full information: Colors, Detailed Specs, Photos, News on EFS-S590 Wiki Page →
#Edifice-Solar, #Edifice-Sapphire-Crystal, #Edifice-2021
---
Year of first Release — 2021 / 255$
*average Amazon Price, we may earn commission from purchases
Lineup: STANDARD ANALOG All EDIFICE Standard Analog Watches →
You pay for: Solar-powered, Sapphire crystal, Carbon Display Styling
Full information: Colors, Detailed Specs, Photos, News on EFS-S580 Wiki Page →
---
Year of first Release — 2021 / 249$
*average Amazon Price, we may earn commission from purchases
Lineup: SMARTPHONE LINK All EDIFICE Smartphone Link Watches →
You pay for: Speed and precision in design, Smartphone Link, Solar-powered, Metallic mesh dial, Double LED light, Sapphire crystal
Full information: Colors, Detailed Specs, Photos, News on ECB-S100 Wiki Page →
#Edifice-World-Time, #Edifice-Solar, #Edifice-Sapphire-Crystal
---
Year of first Release — 2021 / 395$
*average Amazon Price, we may earn commission from purchases
Lineup: SMARTPHONE LINK All EDIFICE Smartphone Link Watches →
You pay for: Speed and precision in design, 9.4mm profile, Smartphone Link, Solar-powered, Metallic mesh dial, Sapphire crystal
Full information: Colors, Detailed Specs, Photos, News on EQB-1200 Wiki Page →
#Edifice-World-Time, #Edifice-Solar, #Edifice-Sapphire-Crystal
---
Year of first Release — 2020 / 340$
*average Amazon Price, we may earn commission from purchases
Lineup: SMARTPHONE LINK All EDIFICE Smartphone Link Watches →
You pay for: 100-meter water resistance, multi-needle chronograph, EDIFICE Connected App, mobile link, Tough Solar and thin case
Full information: Colors, Detailed Specs, Photos, News on EQB-1100 Wiki Page →
#Edifice-World-Time, #Edifice-Solar, #Edifice-Slim-Case
---
Year of first Release — 2020 / 300$
*average Amazon Price, we may earn commission from purchases
Lineup: SLIM CASE All EDIFICE Slim Case Watches →
You pay for: 100-meter water resistance, EDIFICE SLIM, Sapphire crystal, Solar Powered, Octagonal flat bezel
Full information: Colors, Detailed Specs, Photos, News on EFS-S570 Wiki Page →
#Edifice-Solar, #Edifice-Sapphire-Crystal
---
Year of first Release — 2020 / 165$
*average Amazon Price, we may earn commission from purchases
Lineup: SLIM CASE All EDIFICE Slim Case Watches →
You pay for: 100-meter water resistance, EDIFICE SLIM, Sapphire crystal, Octagonal flat bezel
Full information: Colors, Detailed Specs, Photos, News on EFR-S108 Wiki Page →
---
Year of first Release — 2020 / 280$
*average Amazon Price, we may earn commission from purchases
You pay for: 100-meter water resistance, Tough Solar, 9.9 mm slim case, Sapphire crystal
Full information: Colors, Detailed Specs, Photos, News on EFS-S560 Wiki Page →
---
Year of first Release — 2020 / 100$
*average Amazon Price, we may earn commission from purchases
You pay for: 100-meter water resistance, 8.3 mm slim case, Sapphire crystal, Date display
Full information: Colors, Detailed Specs, Photos, News on EFR-S107 Wiki Page →
---
Year of first Release — 2019 / 330$
*average Amazon Price, we may earn commission from purchases
You pay for: 100-meter water resistance, EDIFICE Connected App, Mobile link, Tough Solar, Sapphire crystal, Last Lap Differential Indicator, Dual Dial World Time
Full information: Colors, Detailed Specs, Photos, News on EQB-1000 Wiki Page →
---
EFS-S560 VS EFR-S107 VS EQB-1000
---
Year of first Release — 2019 / 160$
*average Amazon Price, we may earn commission from purchases
You pay for: 100-meter water resistance, Tough Solar, Sapphire crystal, Anti-reverse Bezel
Full information: Colors, Detailed Specs, Photos, News on EFS-S550 Wiki Page →
---
Year of first Release — 2019 / 100$ (Official Casio Store on Amazon)
*average Amazon Price, we may earn commission from purchases
You pay for: 100-meter water resistance, 9.5 mm slim case, Sapphire crystal, Stopwatch, Date display
Full information: Colors, Detailed Specs, Photos, News on EFR-S567 Wiki Page →
---
Year of first Release — 2018 / 220$
*average Amazon Price, we may earn commission from purchases
You pay for: 100-meter water resistance, Carbon dial, Sapphire crystal, Stopwatch
Full information: Colors, Detailed Specs, Photos, News on EFS-S540 Wiki Page →
---
EFS-S550 VS EFR-S567 VS EFS-S540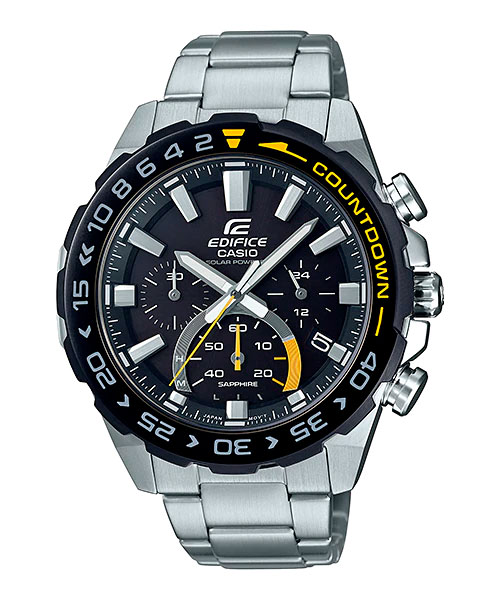 ---
Year of first Release — 2017 / 190$
*average Amazon Price, we may earn commission from purchases
You pay for: 100-meter water resistance, Tough Solar, Sapphire crystal, Stopwatch
Full information: Colors, Detailed Specs, Photos, News on EFS-S530 Wiki Page →
---
Year of first Release — 2017 / 220$
*average Amazon Price, we may earn commission from purchases
You pay for: 100-meter water resistance, Tough Solar, Sapphire crystal, Stopwatch, Battery level indicator
Full information: Colors, Detailed Specs, Photos, News on EFS-S510 Wiki Page →
---
EFS-S530 VS EFS-S510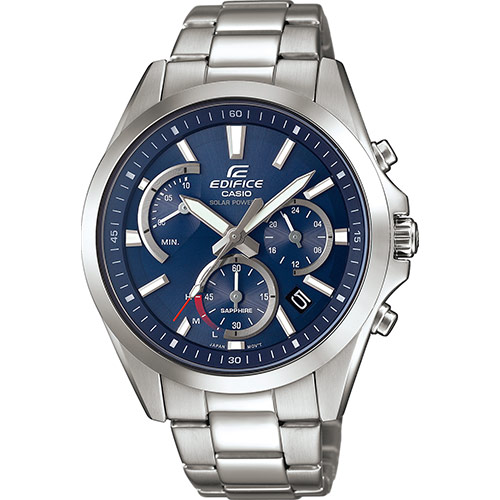 ---