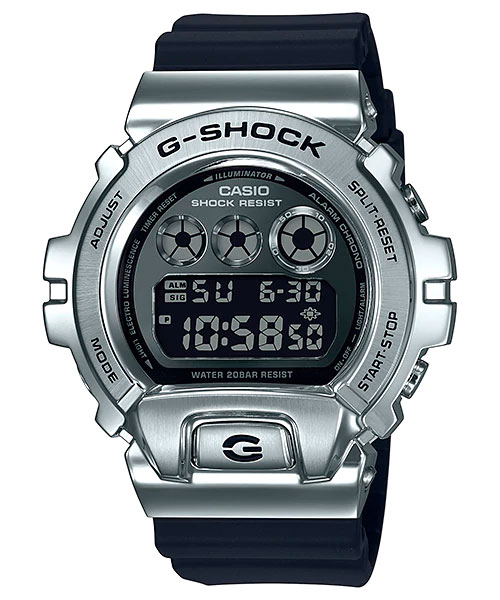 G-SHOCK, which has been setting the standard for timekeeping toughness and durability since 1983, announces new GM-6900 Series watches with stainless steel metal bezels. This new model, which fit right in with both high-elegance luxury fashions and modern street fashions, come on the heels of the GM-5600 Series with metal covered bezels.
Important Information
Price — 230$ *average Amazon Price, we may earn commission from purchases
Year of first Release — 2020
Module Number — 3230
Model Range — STANDART DIGITAL
Other Divisions the GM-6900 belongs to: *you may find all watches of the division by clicking on the link
Battery Type — CR2016 (G-Shock Batteries)
GM-6900 Model Range *may be updated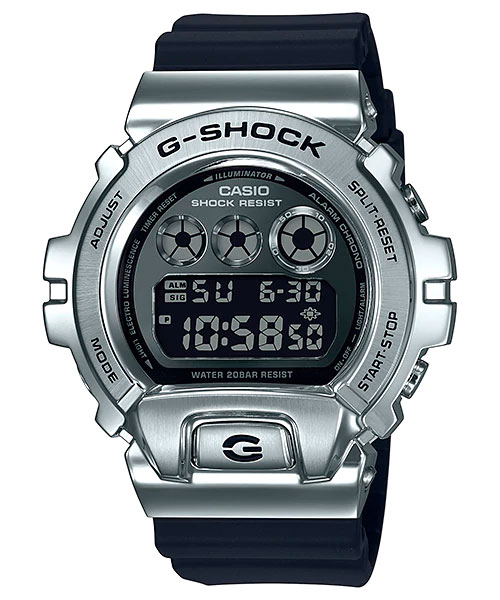 Official Marketing Focus from Casio
Minute protrusions on the outside of the inner case reduce surface contact with the metal bezel. This reflects the design philosophy for the hollow case structure, which protects the module using point contacts and cushions exterior blows. The bezel undergoes about 20 forging processes, then cutting and polishing. It is minutely crafted from a complex, highly uneven molding to a back surface shape that can affect its precision fit into the inner case. The surface is polished to a beautiful mirror and hairline finish.
Official GM-6900 Specs / Features *for base version GM-6900-1
Case / bezel material: Resin / Stainless steel
Resin Band
Shock Resistant
Mineral Glass
200-meter water resistance
Electro-luminescent backlight
Afterglow
Flash alert
Flashes with buzzer that sounds for alarms, hourly time signals
1/100-second stopwatch
Measuring capacity:
00'00"00~59'59"99 (for the first 60 minutes)
1:00'00~23:59'59 (after 60 minutes)
Measuring unit:
1/100 second (for the first 60 minutes)
1 second (after 60 minutes)
Measuring modes: Elapsed time, split time, 1st-2nd place times
Countdown timer
Measuring unit: 1 second
Countdown range: 24 hours
Countdown start time setting range: 1 second to 24 hours (1-second increments, 1-minute increments and 1-hour increments)
Other: Auto-repeat
Multi-function alarm
Hourly time signal
Full auto-calendar (to year 2099)
12/24-hour format
Regular timekeeping: Hour, minute, second, pm, month, date, day
Accuracy: ±15 seconds per month
Approx. battery life: 2 years on CR2016
Size of case : 53.9×49.7×18.6mm
Total weight : 96g
Recent News about GM-6900
---
You ask, we answer…
What does 200-meter water resistance in GM-6900 mean?
The watch is good for swimming but not for deep diving.
What does Metal-Covered in GM-6900 mean?
Minute protrusions on the outside of the inner case reduce surface contact with the metal bezel.
What is Glass Fiber Reinforced Case in GM-6900?
Glass fibers are incorporated into resin for increased strength. The material's resistance to shock-induced breakage and bending protects the module from external shock.
How does Triple Graph Display in GM-6900 work?
It is characterized by three round digital indicators on the dial.