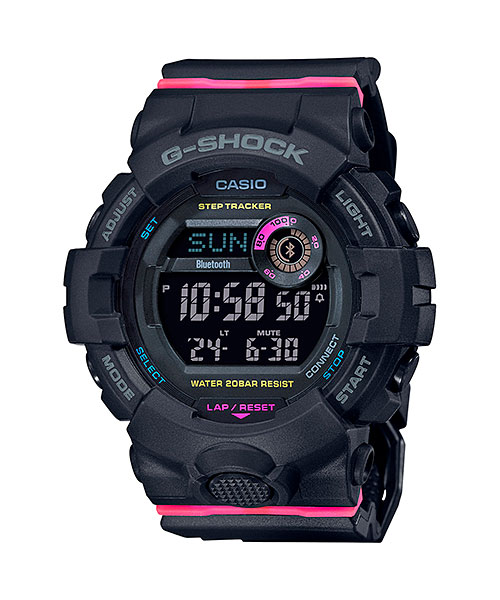 Introducing new compact G-SHOCK model that is great choice for women who prefer mannish G-SHOCK styling.
These models add a new selection of colors to the G-SQUAD lineup of sports watches that make daily training more fun and effective. The size of the GMD-B800 case is approximately 3 mm smaller than the case of the popular G-SHOCK GBA-800, which makes it the perfect choice for those with smaller wrists and those who prefer a more compact watch.
The two summer nuance colors of the GMD-B800 model go well with a wide range of fashion items. A back protector cusions impact, while block coloring and new materials create designs with plenty of visual impact.
Important Information
Price — 80$ *average Amazon Price, we may earn commission from purchases
Year of first Release —  2020
Module Number — 3486
Model Range — G-SQUAD
Other Divisions the GMD-B800 belongs to: *you may find all watches of the division by clicking on the link
Battery Type — CR2025 (G-Shock Batteries)
GMD-B800 Model Range *may be updated
Official Marketing Focus from Casio
Function-wise, the watch can link with a smartphone using Bluetooth® communication, which makes sports activities even more fun than ever. The watch links with the G-SHOCK Connected phone app to provide access to a number of functions that support workouts. Daily health and fitness support functions include a 3-axis accelerometer that keeps track of step counts, a timer that lets you create up to 20 combinations of five timers each, memory for up to 200 lap records, and more. G-SHOCK Connected also makes it possible to maintain step count logs with five exercise intensity levels, calculate the calories you burn, specify a daily step target, create timer combinations and send them to the watch, store stopwatch measurement data, view data, and more. All of this combines to help you plan and record your workouts, making them more effective and enjoyable.
Official GMD-B800 Specs / Features *for base version GMD-B800-1
Case / bezel material: Resin
Resin Band
Shock Resistant
Mineral Glass
200-meter water resistance
LED backlight (Super Illuminator)
Auto light switch, selectable illumination duration (1.5 seconds or 3 seconds), afterglow
Mobile link (Wireless linking using Bluetooth®)
Step count using a 3-axis acceleration sensor: 0 to 999,999 step count display range
Step Goal Progress Display (step count goal setting range: 1,000 to 50,000, 1,000-step increments)
Step Count Graph: Hourly step count for the past 7 hours on a 6-level graph
Step indicator
Power Saving: Auto sensor sleep state entry after fixed period of non-activity
Dual time (Home time swapping)
1/100-second stopwatch
Measuring capacity:
00'00"00~59'59"99 (for the first 60 minutes)
1:00'00~23:59'59 (after 60 minutes)
Measuring unit:
1/100 second (for the first 60 minutes)
1 second (after 60 minutes)
Recorded data: Up to 200 records (measurement start month, date, hour, minute, lap/split times)
Target Time alarm up to 10 Target Time settings
Countdown timer
Timer for interval measurement (up to five time settings)
Measuring unit: 1 second
Input range: 00'00" to 60'00" (1-second increments)
Others: Auto-repeat (number of repeats settable from 1 to 20), auto-start
5 daily alarms
Hourly time signal
Full auto-calendar (to year 2099)
12/24-hour format
Button operation tone on/off
Regular timekeeping: Hour, minute, second, pm, year, month, date, day
Accuracy: ±15 seconds per month (with no mobile link function)
Approx. battery life: 3 years on CR2025
Recent News about GMD-B800