The RANGEMAN is part of the "Master of G" series of watches designed for use in the most extreme conditions. RANGEMAN watches incorporate Triple Sensor to measure compass bearing, atmospheric pressure/altitude, and temperature, based on the concept of "Survival Toughness."
---
Listing of current G-Shock Rangeman Collection
---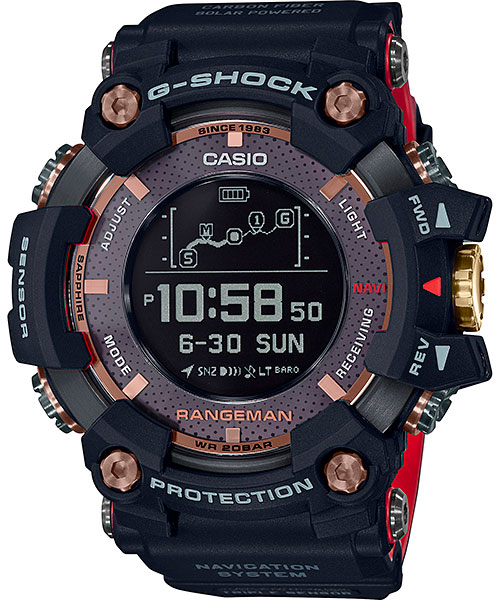 Suitable for Wrist Size: 160 – 220mm
Full Watch Dimensions: 60.3×57.7×20.2mm (GPR-B1000)
The Largest G-Shock Size: 63×55×20.4mm (GBD-H1000) *to compare
Standard watch size: 48.9×42.8×13.4mm (DW-5600) *to compare
Year of first Release — 2018 / 750$
*average Amazon Price, we may earn commission from purchases
Lineup: PROFESSIONAL (G-Shock Professional Line includes watches that can really help you survive under hard, tough conditions. They are well equipped and have the best tough specs.) All G-Shock PROFESSIONAL Watches →
You pay for: 200-meter water resistance, G-SHOCK Connected App, Mobile link, Tough Solar, USB Charging, Mud Resistant, GPS Navigation, Ceramic Case Back, Digital compass, Thermometer, Barometer, Altimeter, GPS Signal Reception
Full information: Colors, Detailed Specs, Photos, News on GPR-B1000 Wiki Page →
#G-Shock-Digital, #G-Shock-Bluetooth, #G-Shock-Solar, #G-Shock-GPS, #G-Shock-Compass, #G-Shock-Barometer-and-Altimeter
---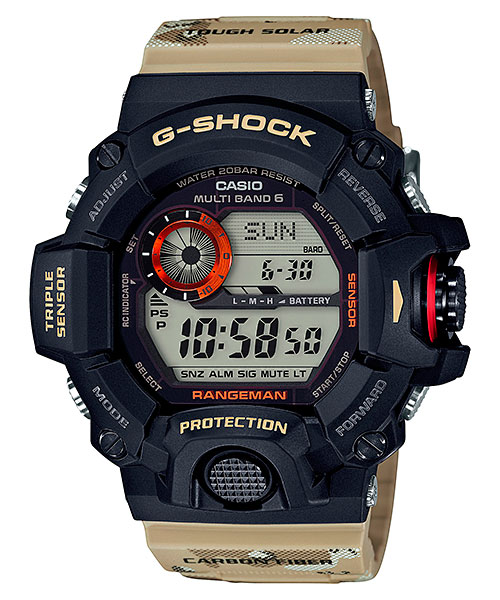 Year of first Release — 2013 / 240$
*average Amazon Price, we may earn commission from purchases
Lineup: PROFESSIONAL (G-Shock Professional Line includes watches that can really help you survive under hard, tough conditions. They are well equipped and have the best tough specs.) All G-Shock PROFESSIONAL Watches →
You pay for: 200-meter water resistance, Tough Solar, Radio-controlled Watch; Multi band 6, Digital compass, Thermometer, Barometer, Altimeter, Sunrise, sunset time display
Full information: Colors, Detailed Specs, Photos, News on GW-9400 Wiki Page →
---
You ask, we answer!
What is the latest G-Shock Rangeman Watch?

It is GPR-B1000 produced in 2017 with the following features: 200-meter water resistance, G-SHOCK Connected App, Mobile link, Tough Solar, USB Charging, Mud Resistant, GPS Navigation, Ceramic Case Back, Digital compass, Thermometer, Barometer, Altimeter, GPS Signal Reception.
What are the TOP G-Shock Rangeman Features?

— Solar Power
— Triple Sensor (barometer, thermometer, compass)
— G-SHOCK Connected FREE Smartphone App
— Super Illuminator. (high brightness LED)
— MultiBand 6
— Smart Access
— Multi-motor construction
— Tough Movement


---
Not Sure about G-Shock Rangeman Watches? There are more G-Shocks!