MUDMASTER (The Mudmaster has been designed to withstand the toughest of conditions. With a digital compass, barometer, altimeter, thermometer and step tracker, you'll reach your goal even when challenges seem insurmountable. MUDMASTER – the perfect union of toughness and technical finesse.)
---
G-Shock Mudman TOP Features *depends on the watch. Some models may miss some features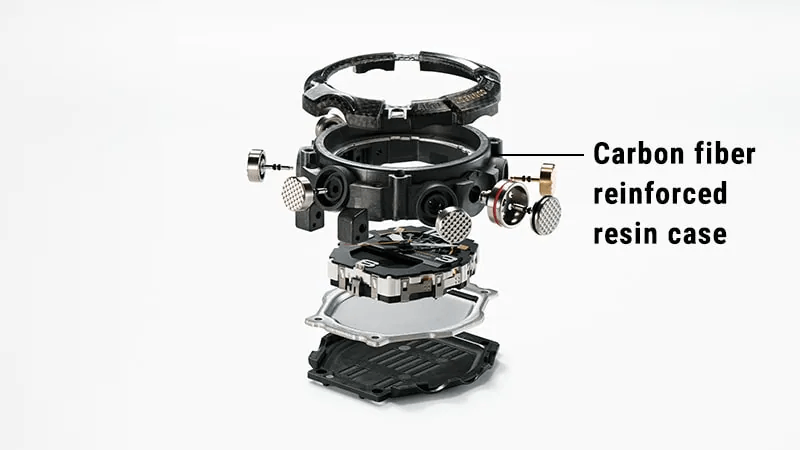 ---
G-SHOCK MUDMAN/MUDMASTER Evolution Timeline
---
Listing of current G-Shock Mudmaster Collection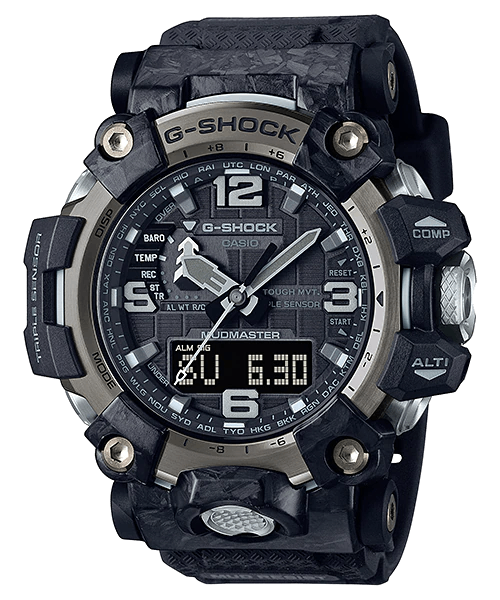 ---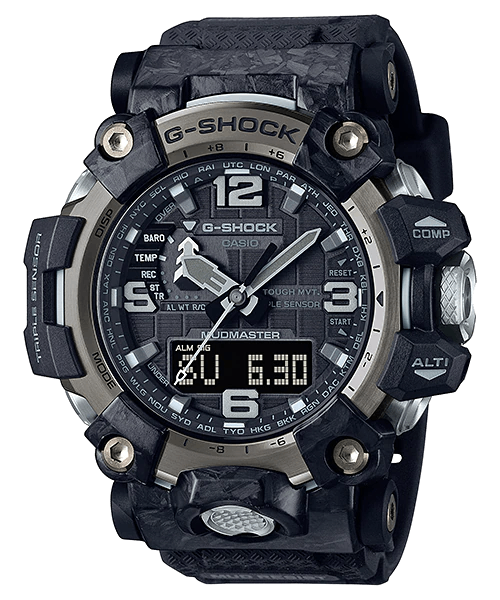 Year of first Release — 2021 / 800$
*average Amazon Price, we may earn commission from purchases
Best for: Military, Army and Police Use, Big Wrists
You pay for: Сompact design, Carbon Fiber, Triple Sensor Measurements, Large Arabic numeral indexes, Textured Band, Tough Solar, Radio-controlled Watch; Multi band 6, Tough Movement
Full information: Colors, Detailed Specs, Photos, News on GWG-2000 Wiki Page →
---
Year of first Release — 2019 / 320$
*average Amazon Price, we may earn commission from purchases
Best for: Military, Army and Police Use, Big Wrists
You pay for: 200-meter water resistance, Mud Resistant, Carbon Core Guard structure, G-SHOCK Connected App, Mobile link, Digital compass, Step count, Thermometer, Barometer, Altimeter
Full information: Colors, Detailed Specs, Photos, News on GG-B100 Wiki Page →
---
Year of first Release — 2017 / 560$
*average Amazon Price, we may earn commission from purchases
You pay for: 200-meter water resistance, Mud Resistant, Tough Solar, Radio-controlled Watch; Multi band 6
Full information: Colors, Detailed Specs, Photos, News on GWG-100 Wiki Page →
---
Year of first Release — 2016 / 280$
*average Amazon Price, we may earn commission from purchases
You pay for: 200-meter water resistance, Mud Resistant, Digital compass, Thermometer
Full information: Colors, Detailed Specs, Photos, News on GG-1000 Wiki Page →
---
GG-B100 VS GWG-100 VS GG-1000
Bluetooth (via phone app)

Radio-controlled (via atomic watch signals)

G-Shock Connected App (simplifies certain watch operations by letting you perform them on your phone screen)

Neobrite (hands and hour markers) Double LED light

Neobrite (hands and hour markers) Double LED light

Neobrite (hands and hour markers) and LED light (Super Illuminator)

5 daily alarms (with 1 snooze alarm)

Measuring unit: 1 second
Countdown range: 24 hours
Countdown start time setting range: 1 second to 24 hours (1-minute increments and 1-hour increments)

Measuring unit: 1 second
Countdown range: 100 minutes
Countdown start time setting range: 1 second to 100 minutes (1-second increments and 1-minute increments)

Measuring unit: 1 second
Countdown range: 60 minutes
Countdown start time setting range: 1 minute to 60 minutes (1-minute increments)

1/100-second stopwatch
00'00''00~59'59''99 (for the first 60 minutes)
1:00'00~23:59'59 (after 60 minutes)
Measuring unit:
1/100 second (for the first 60 minutes)
1 second (after 60 minutes)
Measuring modes: Elapsed time, split time, 1st-2nd place times

1/100-second stopwatch
Measuring capacity: 59'59.99"
Measuring modes: Elapsed time, split time, 1st-2nd place times

1/100-second stopwatch
Measuring capacity: 23:59'59.99''
Measuring modes: Elapsed time, split time, 1st-2nd place times

38 time zones (38 cities + coordinated universal time), daylight saving on/off, Home city/World time city swapping

31 time zones (48 cities + coordinated universal time), daylight saving on/off, Home city/World time city swapping

31 time zones (48 cities + coordinated universal time), daylight saving on/off

Carbon (Carbon Core Guard)

Mineral (Spherical Glass)

Size (mm) *we consider 48.9×42.8×13.4 to be a traditional watch size (as in DW-5600). So you are to compare how far or close the watch is to this size

Full features (if you want to know more)
---
Year of first Release — 2015 / 560$
*average Amazon Price, we may earn commission from purchases
Best for: Military, Army and Police Use, Big Wrists
You pay for: 200-meter water resistance, Mud Resistant, Vibration Resistant, Tough Solar, Radio-controlled Watch; Multi band 6, Digital compass, Thermometer, Barometer, Altimeter, Smart Access, Tough Movement
Full information: Colors, Detailed Specs, Photos, News on GWG-1000 Wiki Page →
---
Year of first Release — 2011 / $298
You pay for: 200-meter water resistance, Tough Solar, Radio-controlled Watch; Multi band 6, Mud Resistant, Digital compass, Thermometer, Moon data
Full information: Colors, Detailed Specs, Photos, News on GW-9300 Wiki Page →
#G-Shock-Digital, #G-Shock-Solar, #G-Shock-Compass
---
GWG-1000 VS GW-9300
Radio-controlled (via atomic watch signals)

Radio-controlled (via atomic watch signals)

Neobrite (hands and hour markers) Double LED light

EL backlight (fully automatic EL light, afterglow function, afterglow time switching (with 1.5 seconds / 3 seconds))

5 independent daily alarms

Measuring unit: 1 second
Countdown range: 60 minutes
Countdown start time setting range: 1 second to 60 minutes (1-minute increments)

1/100-second stopwatch
Measuring capacity: 23:59'59.99''
Measuring modes: Elapsed time, split time, 1st-2nd place times

29 time zones (29 cities + coordinated universal time), daylight saving on/off, Home city/World time city swapping

Alpha Gel /
Vibration Resistance

Sapphire Glass with non-reflective coating

Size (mm) *we consider 48.9×42.8×13.4 to be a traditional watch size (as in DW-5600). So you are to compare how far or close the watch is to this size

Full features (if you want to know more)
---
| | |
| --- | --- |
| Carbon Core Guard structure | This new shock resistant structure protects modules with a carbon fiber reinforced resin case. |
| Mud resistant structure (dust and mud resistant) | Highly airtight carbon case and filter protects against intrusion of mud. |
| Carbon fiber inserted bezel | A triple layered structure with a carbon fiber sheet inserted between fine resin. |
| Solar Power | None-Stop – A solar panel converts even weak illumination from fluorescent lighting into electric power. A rechargeable battery with a large power storage capacity supports stable operation of various functions with high electricity consumption. You never have to worry about the battery running down because it's a solar battery. Casio watches with solar technology, receive thermal and electrical energy that recharges the watch batteries through solar panels on the face of the watch. |
You ask, we answer!
What is the latest G-Shock Mudmaster Watch?

It is GG-B100 produced in 2019 with the following features: 200-meter water resistance, Mud Resistant, Carbon Core Guard structure, G-SHOCK Connected App, Mobile link, Digital compass, Step count, Thermometer, Barometer, Altimeter.
What are the TOP G-Shock Mudmaster Features?

— Carbon Core Guard structure
— Mud resistant structure (dust and mud resistant)
— Carbon fiber inserted bezel
— Solar Power
— G-SHOCK Connected FREE Smartphone App
— Super Illuminator. (high brightness LED)
— MultiBand 6
— Smart Access
— Multi-motor construction
— Tough Movement


---
Not Sure about G-Shock Mudmaster Watches? There are more G-Shocks!